40 Professional Samples Of Thank You Reply To Boss For Appreciation, Recognition Or Award
Do not let it pass when you receive an appreciation message or email from your boss, as a recognition of your good work. It is expected and would be great if you also send him a thank you reply to boss for appreciation or recognition.
Sending thank you reply to boss for appreciation or recognition will also give you the privilege to let him know how much you appreciate him for excellent leadership and for creating a great environment that encourages productivity.
So, we got you several ways to say thank you for your kind words and samples of thank you reply to boss for appreciation of your observed contribution.
How To Reply To A Thank You Email From Your Boss
Not many people knows the importance of replying a thank you message or email. While some knows its importance, they do not know how to go about it sending thank you reply to boss for appreciation or recognition.
Giving a reply to a thank-you email can sometimes be difficult especially when it is from your boss. It will not be too ideal to give the usual 'it's my pleasure' reply.Here are short samples of how to reply to a thank you email from your boss.
1. I was so humbled to receive your email. I sincerely appreciate the privilege to be part of the project team.
2. I appreciate your email, sir. I am motivated to do more and put in my best. Thank you once again.
3. I value the thank you email sent to me. It meant a lot to me, I promise to always give my best to any project or assignment.
4. I also appreciate you, sir. You have equally opened my eyes to much intrinsic truth about the company. I'm better equipped now.
5. Thank you sir for giving me this awesome experience of working with great minds. I was greatly challenged.
6. Never mind boss, you can let me know when opportunities like this come up again. I don't even mind short notice.
7. Thank you sir for the email. You are free to let me know what I did not do right and areas that need to be corrected.
8. I was extremely glad to work with you. Helping people is one of those things that gives me pleasure. I'm always at your service sir.
9. You are one of the few amazing bosses I have come across. I, therefore, grab every opportunity to work with you with utmost urgency and due diligence.
10. I am also grateful for the opportunity to sit in the board meeting. I was open to new knowledge and information which have been helping me in the discharge of my duties.
Related Post: I Appreciate You Quotes
How To Praise Your Boss In Words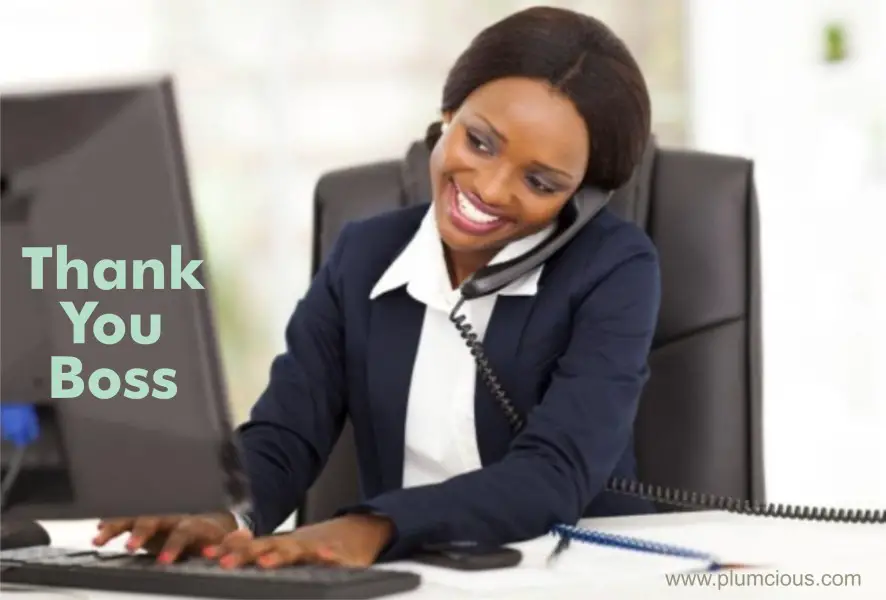 Everyone loves to be praised, including your superior at work. While it is important to appreciate your co-workers for supporting you in several ways, it is necessary that you also learn how to praise your boss in words.
We already got you some samples of thank you reply to boss for appreciation or recognition, or how to say good things to your boss to show your gratitude.
1. No problem sir, I was free when you requested my help. It was not a big deal at all. You can call me anytime you need my help.
2. Don't worry, sir. I see it as a great privilege to stand in for you at the end-of-the-year event. I learned a lot and I was able to meet new friends.
3. Feel free to reach out to me sir, anytime your hands are tight. You will always have my prompt response.
4. Thanks so much, boss. You are very easy to work with. I treasure every time spent with you.
5. I'm happy you love my work. Thank you sir for the exposures you gave me during the assignment. I so much treasure it.
6. I count it as a privilege to be led by you. Thank you for being an amazing leader.
7. You are talented and vast. I am open to new info every day. Thank you for making me a better person.
8. You are not just a boss but a friend, counselor, and father. I appreciate your priceless counsel and the words of wisdom you do share with me.
9. I sincerely appreciate my recent promotion. It came when I least expect it. Thanks so much for the recognition.
10. I was scared when I resumed work as a new intake. Never did I know that I will be working under one of the most understanding bosses. Thank you for making work easy for me.
Related Post: Unique Ways To Say Thank You Professionally
Samples Of Thank You Reply To Boss For Appreciation /  Recognition
No matter how much you put into your work, some boss will not pay attention to your extra effort. For your boss to have recognized your contribution to the success of the company, you shouldn't take it for granted.
With any of these samples of thank you reply to boss for appreciation or recognition, you can show your appreciation to him or her for being kind enough to send you a thank you message.
1. I can not thank you enough for the support you have given me all these years. Thank you for facilitating my promotion, it happened earlier than expected.
2. Thank you for your kind gesture and the humility displayed when I needed help for one of my assignments. You're indeed a rare boss.
3. You poured all of your knowledge and ideas on me. Never for once were you afraid of sharing new ideas and insight with. Thanks for being a secure leader.
4. Thanks for noticing every of my contribution to the company's growth. I truly appreciate your word of encouragement and recognition you give me times without number.
5. I can't express in words how pleased I was with this award. Thanks for honoring me.
6. This is one of those crucial moments that I felt my efforts is being recognized. I was so proud of the moment. Thank you for all you do.
7. You have truly motivated me with this award. Thanks for choosing me as part of the outstanding staff. Thank you for the grand appreciation. It's a memorable moment for me.
8. Thanks for recognizing my contribution and for this for this great honor. I promise to continue giving my best to my work.
9. Kindly accept this as my hearty appreciation for your recognition of my contribution. I don't know that the little work done could attract so much appreciation. I am glad and grateful.
10. You have boosted my confidence with this recognition I'm encouraged to do more in discharging my duties.
Related Post: Tips To Write A Professional Thank You Email
Thank You Message For Award Received From Boss
1. My appreciation goes to the group of people who came up with this initiative of granting this award. You're amazing.
2. Words will fail me to express my gratitude for this award. I am encouraged now than ever.
3. I was lucky to be selected for this award. Lemme assure you that this coming year will be welcomed with better performance.
4. The recognition came unexpectedly. I never knew I could be qualified for it. Thanks to the organizers.
5. This award truly recognizes the work I did. I appreciate your patience to scrutinize my work and honoring me with this award.
6. Thank you for coming up with the exhibition plan. It's a privilege to learn and improve my skills. It's really worth the effort.
7. The presentation session was a sight to behold. I was startled when given the award. I sincerely appreciate this great opportunity.
8. I want to guarantee you that with this award of recognition, my input will be greatly increased. I appreciate this recognition.
9. I do not believe in the assignment when I set out. I didn't know it could earn me an award. Thanks for motivating me, team.