How to Study the Bible for Beginners: 12 Easy Steps
Sandra was flipping the pages of her bible back and forth. The Bible she was holding was handy though, but going by the expression of her face, she was like a 5-year old boy with the map of the World, somewhere in a desert, trying to figure his way back home. She's wondering "Where do I start from?". How do I get the message out of these tiny letters? I know there are many 'Sandras' out there, desiring to find the answer to the question 'How to study the Bible for beginners?'
I hope to reach out to you with this post and help you to get the most out of the word of God. So I thought to come up with a post on ways to study the Bible; and this is it, titled how to study the bible for beginners and apply it. Therefore, this post would not only deal with how to study the bible but also how to apply the Bible. Learning how to apply the word of God to your specific, individual situations is what brings the power of God's word into reality in your life.
Perhaps you're not a 'beginner' like Sandra, but you desire that you have a better understanding of how to study the bible effectively. There is no one-rule-fits-all to studying the bible. You have to find out which of these ways would be more effective and comfortable for you. I have put in a great effort to help you find effective ways to study the bible.
The faith-walk is a conscious and intentional one. It's not a journey to be walked without the knowledge of God's word. The Bible is your map and guide that will lead you to obey your Lord, Jesus Christ, living like him and enjoying the benefits of the Christian life. Understanding how to study the bible for beginners is one of the basics knowledge needed.
Benefits of Studying the Word of God
Milk is essential for every newborn baby to grow and stay healthy. Even as an adult, we cannot continue to survive for too long without food. The same is true for the Christian life. There is no guarantee for a healthy Christian life without in-depth knowledge of the word of God. It is therefore paramount that everyone coming into the sheep-fold understands the subject of how to study the bible for beginners
Either you had it in mind to search for how to study the bible for beginners or you just bumped into it on the internet, for you to have clicked on this title, you are probably aware of some benefits of studying the word of God. However, these benefits would be disused here and right now.
No matter how much time you spend studying the word of God, it would never be wasted time. Do we even SPEND time reading the word of God? I think it is more appropriate to say INVESTING time reading the Bible because it's an investment that always worth the time.
Why should you invest so much time studying the word of God? Why I'm I even writing this post on how to study the Bible for beginners? This is because I know how important this is to your spiritual growth. Without much ado, let's get into some of the benefits of studying the word of God.
• It's A Source of Wisdom
The Law of the Lord is perfect; it gives us new life. His teachings last forever, and they give wisdom to ordinary people. (Ps 19:7CEV)
• Helps to Pray Effectively
One of the major requirements of How to pray and get results is praying according to the word of God. The Bible says, "And we are sure of this, that he will listen to us whenever we ask him for anything in line with his will. 1 John 5:14-15TLB"
Our confidence in answered prayer is in our alignment with his will. This alignment is only possible by studying and applying the word of God. God is committed to His word. As you study the bible, you come to the understanding of God's will for you and this helps to pray effectively.
• Energizes faith
The source of faith is the word of God. The strength of your faith will be determined by how much of the word of God you have in you as a result of bible study.
"So then faith comes by hearing and hearing by the word of God" Rom. 10:17.
• Helps to Overcome Temptation
"I treasure your word above all else; it keeps me from sinning against you". (Ps 119:11CEV).
With the word of God stored up in your heart during the time invested in studying the bible, you're able to say no when the devil comes to you with temptations.
• Brings About Spiritual Growth
As newborn babes, desire the pure milk of the word, that you may grow thereby, (1 Peter 2:2 NKJV)
What food is to your body, bible study is to your spiritual life. To grow and remain healthy, you must learn how to study the Bible and apply it consistently.
NOTE: Related Post:- How to Develop a Consistent Prayer Life
• To Be Equipped for Good Works
"The whole Bible was given to us by inspiration from God and is useful to teach us what is true and to make us realize what is wrong in our lives; it straightens us out and helps us do what is right. It is God's way of making us well prepared at every point, fully equipped to do good to everyone." (2 Tim 3:16-17 TLB)
• Brings Freedom and Deliverance
So Jesus said to those Jews who had believed in Him, If you abide in My word [hold fast to My teachings and live in accordance with them], you are truly My disciples. And you will know the Truth, and the Truth will set you free. (John 8:31-32 AMP)
• Helps to Teach Others
You can not be a good teacher of what you have not studied yourself. As you study the Bible you gain a better understanding of the scriptural subject, which puts you in the position to impart such knowledge to others.
"Remember what Christ taught, and let his words enrich your lives and make you wise; teach them to each other and sing them out in psalms and hymns and spiritual songs, singing to the Lord with thankful hearts".(Col 3:16-17TLB).
Ways to Study the Bible
1. Chapter by Chapter
The bible can be studied in several ways, one of which is to study by chapter. That is, taking a chapter of a book of the bible to study. For instance, you may decide to study the book of John and studying from chapter one. When you're done studying chapter one, then you may move to chapter two, three, four, and so on.
Each chapter contains several headings and each heading may contain several paragraphs. In each paragraph, there may be several verses having the main theme. As you study, take note of the thoughts or subject matter and pay attention to the message it's passing. Don't forget to also write down questions that may pop up in your mind as you study.
With a Chapter-by-chapter study, you can finish a book containing 30 chapters in 30 days. By so doing, the whole Bible can be studied in three years and a few months. Each chapter a day for 365 days.
2) Word/ Subject study
Doing a word study is a more in-depth way to study the Bible. This can be done by the use of concordance or/and Bible dictionary.
Word study involves focusing on a Word such as the word "Created" as used in Genesis 1:1. In word study, the understanding of the original usage of the word in Greek, Hebrew, or Latin (depending on the book you're reading) will be of great help.
As a beginner, you may not have the bible study resources that would enhance your study, but you can access any of them online.
3) Character Study
The Bible contains several characters such as Adam and Eve, Abraham, Joseph, David, Mary, Peter, Paul, etc. You may study the lifestyle of any of these to glean wisdom from their conduct.
I had studied David on several occasions trying to study his attitudes in several situations. You may decide to select a bible character to learn how he/she responded to a situation you're going through, so you can be inspired on what to do too. It could also be a study on the character's weaknesses, mistakes, or poor choices; depending on your purpose for the study.
4) Topical Study
Doing a topical study may require the use of a Bible concordance that will show you where the subject matter of your interest can be found through the entire bible. It is an in-depth study of the bible that may take time. However, the time invested can always worth it.
For instance, if you want to do a topical study on the topic, 'Love'. With the help of your concordance, you'll search for where the word 'love' appears in the bible, both in the old and new testaments, read around those verses to get clues on the subject of love.
More so, you may need to read in context, so you don't get a wrong interpretation of the point within a passage. Note that Word usage is a major factor to bear in mind as you study.
5) Book by Book Study
The book-by-book study is a bible study method done by selecting a book of the Bible, say, Proverbs or Colossians, and read through.
Reading through a book at once can make you have some level of understanding that you may not have, reading by bit. However, it is advisable to read at your pace.
Whatever ways you have chosen to study your Bible and whatever pace you may go, the most important thing is that you're being blessed by the Word of God.
How to Study the Bible for Beginners
It may be necessary again that I remind you that the focus of this post is not just about how to read and understand the Bible. Yes, this post would certainly help to answer that question too. However, our focus goes further to How to STUDY the bible for beginners. STUDY requires deeper observations and research. This is necessary to bear in mind as you read on.
Also, this post has been structured to make studying the bible easy and at the same time effective.
Related Post: Biblical Words of Encouragement for Hard Times
1) Have A Study Plan
It is important that you plan ahead on your study, so you can make the best of the bible study time.
Make a decision, either to study a whole book of the bible, a subject/ topic, a Character in the bible, or to read the entire bible in a year. Making this decision helps you have an expectation and be committed to your Bible study. This also helps to measure the achievement of your goal.
2) Choose the Bible Version You'll Enjoy Reading.
There are hundreds of Bible versions out there, such as the popular King James Version (KJV), New International Version (NIV), Amplified Version, or even the Easy to Read Version and lots more.
There is no right or wrong Bible version. Each version was written for a purpose and to meet the needs of different readers. Some versions were written to help readers understand the thought in a passage. While some versions pay closer attention to precision of word usage. Your choice therefore would depend on what you want.
For beginners like Sandra, I always recommend the use of New International Version (NIV), or New Living Translation (NLT) because of their readability and the level of their precision of word usage.
While choosing the Bible version you'll enjoy reading, also bear in mind to choose a bible that contains some features like Concordance, cross reference, footnotes, and Maps. This will facilitate your study and make your bible study interesting and effective.
I love to use different versions during my study. It's a great way to understand better and enjoy a different rendition of the bible.
3) Pray Before You Start Studying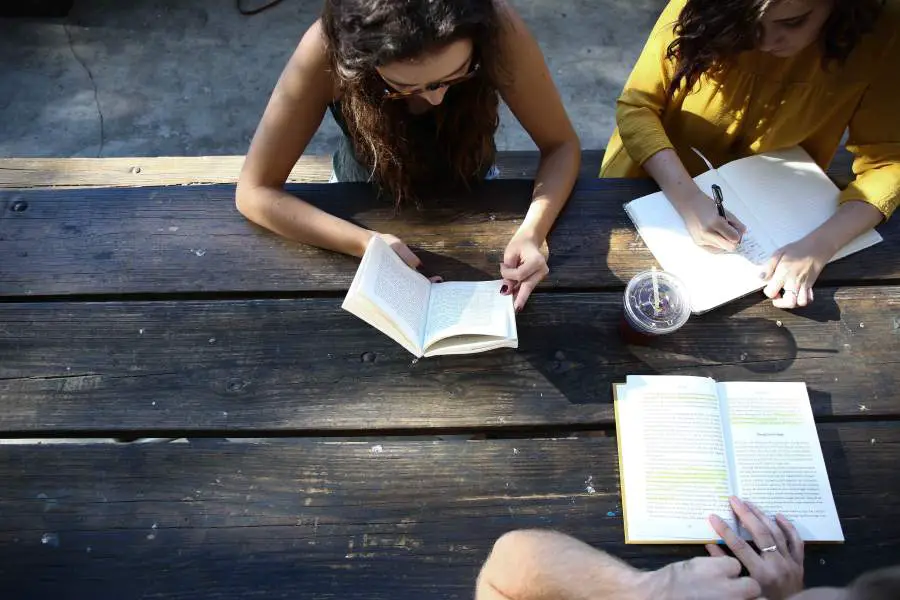 The Bible can only be properly interpreted by the One who inspired it. The Holy Spirit inspired the writing of the Bible, for you to get the most of your study time; you have to depend on him for interpretation.
Many people complain that they can't understand the bible when they read it, this could be because they relied on their wisdom to understand it. Before you start your study, show your humility, meekness, and desire to be helped by God by praying first. Tell him to teach you and shine his light as you study the Bible. You'll be amazed how access would be granted into the Truth of the Word of God.
NOTE: Related Posts:- How To Pray and Get Results Without Delay
4) Begin from the New Testaments.
The Bible is segmented into two major parts known as the old and new testaments. The old testaments begin from the book of Genesis to Malachi, making a total of 39 books, while the new testaments contain 27 books, beginning with the gospel of Matthew to the book of Revelation. Simply, the difference between the old and new testaments is the arrival of Jesus Christ the messiah.
Time and happenings before the arrival of Jesus Christ are referred to as the old testaments; while His death, begins another testament, referred to as the new testaments.
The old Testaments is referred to as the shadow of the new Testaments. You'll agree with me that for a beginner, it is better to see the real image first (the new testaments), and then you can understand what the shadow (old testaments) represents when you see/read it.
Starting to read from the gospel of John for beginners has been a piece of age-long advice. And it's a great one at that.
5) Use Study Guide/ Tools or Devotional
How to study the Bible for beginners involves the use of study guide, tools, or devotional. This is to help you glean from the wisdom of bible scholars as they help shed more light on your study.
These tools may include a concordance that could be found at the back of your Bible; commentary, Bible dictionary, or even online bible study resources.
6) Read and Read Again Slowly
As you start reading, for example during the book-by-book study; read the entire book to grasp what it's talking about. This first reading can be done within a short time. After your first reading, take time to read again slowly, paying more attention to details such as the "What?" "Who?" "How?" "Requirements" "Promises" "Instructions" and so on.
7) Study Steadily
Learning is a process that requires patience. Don't be hasty to get out of your study room. Staying longer in there may open you up to deeper truth of the word of God. It is called bible STUDY, not bible reading. Take your time to really study. The time will be worth it. It's better to read a few verses with great understanding than to read a whole chapter that you can hardly remember a few hours after.
8) Use Your Writing Materials
As you study your Bible, write down what you observed above. Writing helps you remember what you learned and what you need to find out about.
Revelations that would come to you during your time of study would be a treasure you won't want to lose. Using your writing material as you study helps you to get back to your discoveries and make use of them when needed. Spiritual truths are slippery. Tie them down with your writing materials.
9) Memorize Scriptures
The practice of memorizing scriptures is of great importance. As you study your bible, select important and relevant Bible verses to memorize. Mark them with a book marker. This will help you to always keep in mind what you learned during your study. You may like to read my post that deals with How to memorize the bible easily and effectively.
10) Join a Bible Study Group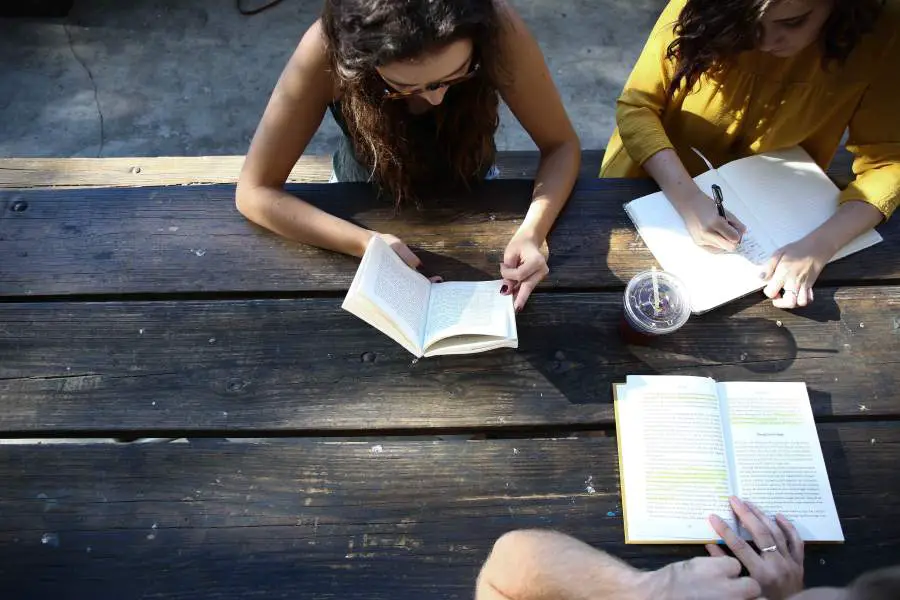 Locating and joining the right Bible study group is a key factor in how to study the bible for beginners.
Iron sharpens iron. As you get into the right circle of friends who make it a priority to study the Bible, you too will begin to understand better ways to study the bible and be consistent at it.
The more you discuss the scripture, the better you understand the bible. This will further help you as you seek answers to how to study the bible.
11) Have a Trainer
No athlete can succeed without the help of a trainer. Get someone who knows the Bible better than you do. Take out time to spend together and discuss over the coffee table. You'll be amazed at how much knowledge would be passed to you through this trainer.
Your bible study trainer maybe a colleague in the office, a friend in church, your spouse, your local church unit leader, or even your pastor. Whoever it may be, be humble enough to learn from them. Ask questions to get a better understanding.
12) Read Good Christian Literature
Books are one of the ways by which knowledge is transferred across the globe. There is probably no subject of the bible that has not been discussed in a book. On some subjects, there are hundreds of thousands of resources coming out from publishers yearly.
As you read good Christian literature, by books or on the internet(like you're reading this), either on the subject of How to study the bible for beginners, faith confessions, prayers, or whatsoever, you'll catch a glimpse of how these authors interpret the bible. This can serve as clues for you during your study time.
Applying the Word of God
The essence of bible study is not just to add more knowledge; it is also, and more importantly, to add virtues. Head knowledge can make one become proud at heart. Applying the Word of God in your day-to-day activities brings transformation.
Related Search: Learning How to Live a Life of Faith and Victory
1. Accept the Supreme Authority of the Bible
You can only be guided by the map you trust. If you don't trust your recipe, you cannot apply it to your kitchen. For the Bible to be relevantly applied, its supreme authority must be accepted. You must see the bible as the only true word of God.
To accept the supreme authority of the Bible also includes respecting God's word over your feelings and emotion. Until the word of God can override how you feel, you'll not be able to apply the wisdom you learned from the Bible.
Sometimes, you'll be advised against the standard of God's word; what would make you apply the word of God in such situations, would be how much you respect and accept the wisdom in it above the wisdom of men.
2. Look Forward to Applying the Word of God
As you go through the activities of the day, look forward to applying the word of God in matters arising.
Since you've learned to follow peace with all men, look forward to esteeming peace above pointing out how right you are. Let the Bible make you forgive those who may offend you at work or in the traffic. Tell yourself, I'll do what the Bible advised me to do.
3. Listen to Your Inner Voice
Many times while you may feel cheated and taken for granted, your carnal self may want to talk back and retaliate. However, you may sense a voice within you reminding you to follow peace with all men as you've read during your study time. That's the Holy Spirit speaking to you through your inner voice. To apply the word of God, you must listen to your inner voice. Your inner voice is the traffic light in you that could signal 'stop', 'ready', 'go'.
4. Be Ready to Be Different
The Bible admonished us not to be conformed to this world. This is because, what the environment dictates or expects from us can, and are oftentimes different from what the Word of God teaches us.
To apply the word of God, you must be ready to be different from the rest of the world. You're a Christian because you decided to be positively different from non-Christians.
Remember, the disciples were first called Christian in Antioch because they stood out from the rest of the people. They applied what they've learned from Jesus while he was with them. They decided to be different even if everyone else does the same wrong things.
5. Apply the Word Again and Again
Practice makes perfect. This saying is true both for negative and positive practices. Whatever you do, again and again, you'll get better at doing it next time.
Applying the word of God, Again and again, can integrate the standard of the word into your attitude. Making you a transformed individual gradually. Such that after a while, you naturally begin to live the life of the bible. This is the essence of studying the bible. Transformation!
Your schedule may be tight, but prioritizing the word of God will make you go ahead finding time to study the bible. With this post, I hope you've found helpful bible study tips that would facilitate your bible study and make it a rewarding exercise. You've learned how to study the bible for beginners; it's time to practice and be committed to studying the bible. More importantly, make decisions to apply the word of God. The essence of the study is transformation.
Kindly comment on how helpful this has been. Don't forget to share also. Who knows, this may be useful for someone around you.