So many times, we are stuck on how to say thank you meaningfully to our loved ones or someone who did us a favor. It's normal to ponder what to say when someone gives us a gift, and we need to show our heartfelt appreciation without sounding cheesy.
Relationships may get broken because partners don't know how to say thank you meaningfully, and sincerely. The best way to commend someone is to express our sincere and heartfelt gratitude.
An adage that says, "To one whom much is given, much is expected." It's crucial that we express our gratitude even if we don't have material things to give in return, to those who had been of great help to us.
So when you need to say thank you meaningfully, here are several thoughtful ways to do so, to whomever, irrespective of what they've done for you.
Long Messages of Gratitude to Friends
You'll agree with me that good friends are the spices of life; without them, life can be tasteless and meaningless.
We shouldn't take them for granted and never forget to occasionally send some messages of gratitude to friends who had proven to be good to us. So, when short messages cannot do the job, long messages of gratitude will help show how grateful you are.
Wondering how to say thank you meaningfully to them? Here are long messages that help capture your thought and express your gratitude.
1. The feeling of having a friend who cares about you is enough to save your soul from tearing apart. The excitements you get from speaking to a soul who respects you are ample to wipe your tears in distress. The sentiment you derive from the smiles and the laughter while in his presence radiates your life, making it whole and anew. You are different and exceptional. I can't imagine what I would be without you.
2. Thanks for always being there for me when I needed a listening ear. Thanks for listening to my babbles and banters.
3. Most times, I find it so difficult to express my feelings, even when I'm deeply hurt and need someone to detect my pain. You say motivational words that save my day and help me come alive and again. You are a darling.
4. I feel a pang of pain when I remember how detrimental my situation is. I lost hope in finding someone to care for me, but you showed up and stood by me despite my repulsiveness.
5. I know that this shouldn't take you as a surprise, but I'm so happy about our friendship that I can't but write this message. Thanks for standing up for me while I was being criticized. Thanks for not taking me as a dummy as others had called me. Thank you so much, friendie, for attributing a name that is so dear, to me.
6. I realized that I have immensely developed mentally during the last couple of months, but do you know what? Between every ounce of change, your face surfaced. I don't know how best to commend you for your efforts, but I do hope you'll smile receiving this message of gratitude.
7. You have attractive personalities. You are a source of inspiration and motivation to me. I'm used to every minute with you that your characters are smeared on me. I'm so grateful to have a friend like you, who inspires me to be more all the time and even those times when you were absent.
8. I had an outburst of emotion, I was sad and depressed. I didn't know where to begin, but my phone rang. I checked the caller ID and 'Bestie' displayed. I couldn't help but smile after the long chat I had with you that night. Accept my heartfelt messages. I promise to be there for you, forever.
9. At first, I was stuck between calling you a friend and moving on with my life of solitude. I suck at making friendships. I look back to that day and couldn't believe how greatly compatible and intimate we are. I just want you to know that I cherish you.
10. Every second with you is spent on piety, honesty, and gaining more knowledge about our Lord. I've grown up to become the person I desire, with your efforts. Thanks for everything you've done for me. Thanks for improving my perspective about our Lord.
11. I fear old age while I was in my youth. I thought all would shrink away from my view. I thought the world wouldn't bear to see my wrinkles, but you prove to me that I'm worthy of love. You shower me with the care that a best friend can ever give. Thanks for all you do, pal. I'll choose you as my best friend, again, in heaven.
12. I don't know how we've gotten into each other. You're a friend indeed. Thanks for accepting my flaws, friendie.
13. There are moments I'll just reminisce on the past. I remember the best friends I had, who are nowhere near me, now. Memories of how they jilt me to strike my chord, every time. No matter the tears, God has given me a reason to smile. You are a blessing from above.
14. I search for who I want to become. I look at the world and see who has got the attractive personality I so much desire. I wasn't as surprised when my thoughts are all surrounded by you. You are so special, sweetheart. Thanks for being my best friend.
15. Should I talk about the times I had nothing to eat and you fed me? Days you didn't castigate me openly when I faltered but spoke softly to me? Should I talk about the nights we spent in the library reading and discussing? Should I talk about how I do smile, alone, when I remember your words? Bestie, I don't know what I would have been without you.
16. Do know that I'll continue to love you because you suit me so well that I've forgotten we weren't twins by birth. Thanks for the love and care.
17. No matter the circumstances, you'll always be regarded as my bestie. I love you and I even don't know why. Keep being the normal you, I think that's what makes our relationship sweeter. Your genuine love calms my heart and soul. Thank you so much, honey.
18. Having a friend who cares about your success and your relationship with God is one of the greatest gifts. You always celebrate my success, you are always after me fulfilling my obligations to our Lord and constantly asking if I've prepared a plan for the task ahead. Thanks for everything, for you are all I ever desire, bunny.
19. You are the most sensitive friend I ever had. You are aware of my emotions and mood swings, yet you don't freak out when I display one of my episodes. I'm writing this to you because I can't thank you enough. I promise to be self-aware. Tears flow down my cheeks while writing this. I cherish you.
20. Most times, I intentionally wait to hear from you. Pardon me, I was just being silly, but watchful. I suck at making friendships. I don't know if I am to call you my friend, because I don't want to betray you with my fluctuating emotions. You are a kind soul. Reflecting on your qualities makes me succumb to the fact that you are the person I ever wanted. I want to thank you for all you do, and 'I'm ready to be that person you are to me.' Bestie, you are always in my heart, thoughts, and prayers.
Related Post: Thank Mou Messages to My Friend
Thank You for Your Encouragement and Motivation
There are moments when we don't know how to go about life. Everything looks so blurry. The world screams pains and anguish. But during the last straw of falling off, we came in contact with a beloved person who gave us another reason to live. We must say a thank you for your encouragement and motivation to this great soul. Here are some messages that can melt a heart that supported us:
21. I was on the brink of death. I felt the need to escape the earth. I thought no one could hear me, but you soothe my soul with your pleasing words. Thank you for been there.
22. Thanks for telling me to hang on. Thanks for seeing the real person I am, which I was oblivious of. Thanks for telling me to keep doing what I do. Those words lingered in my heart and saved me from derailing. Only if you know I made those words as my mantra, I even imprinted it on my wall. Your words are like juices that refresh the soul with a sweet flavor.
23. I thought I could be better off alone, but I suffered from depression. Thanks for the talks, even when I don't feel like it. I'm so grateful for your kind-heartedness and your everlasting words of encouragement. If you'd believe me, I feel much better every time I discuss with you. You are one of a kind, dearie.
24. If the world can listen to you, maybe there wouldn't be chaos or violence; peace and tranquility will prevail. Thank you for your encouragement and motivation, love. I'll sing praises of you to the moon and the stars.
25. I don't know who I would have been without your constant encouragement. Thanks for not giving up on me even when I shunned you.
26. Those words and little actions of yours are what made me up, today. I can now look back at yesterday and smile because I've greatly improved. All thanks to you.
27. You might not know that you've motivated me to become who I am, today. I'm writing this to get you informed. You've been the person whom I secretly worship—you are my role model. Thank you for your encouragement and motivation.
28. Thank you for being the person I always look up to. When I'm down, you give me the courage to gather my reins and soar higher, again. When I excel, you commend me and would always remind me of what it feels like to fail and, to be noble. Thanks for encouraging me to be as humble as ever. I am very grateful.
29. I've come to realize that you stand out from every other person who tried to encourage me. Some tried their best to be truthful but failed. The intentions of others are pure, but their words missed it along the way. You are a man of honor. You are invaluable. I respect and adore your love.
30. I remember your words on that day. Thanks for instilling and cultivating that spirit in me. I feel great changes had occurred during the last few months of meeting you. Thank you!
31. Having you as a mentor is the greatest gift my Lord blessed me with. Words alone can't express how I feel towards your on-point words of encouragement. Thanks for teaching me to be resilient. Thanks for telling me to keep striving, no matter how hard.
32. I'm so glad that you made me realize that I can always live in abundance. You are a source of motivation. Thank you for all you do for me.
33. Do you know what? Since I met you, I've never stopped questioning and stretching myself to attain my new heights. The world needs more of you. Keep on with your excellent spirit.
34. Thank you for always keeping me on track. Thank you for always around and sincere enough to tell me when I'm about to miss it. Your kind is rare.
35. I was asked how I had thrived, I replied, saying, "I've got someone who sees my struggle and speaks words of encouragement when I feel like giving up. Thank you for always cheering me up.
36. No other person can leave me in awe just like you do. I'm mesmerized by your words every time you speak. I can't but say you are a highbrow. Thanks for getting me motivated, all the time.
37. Many had said I'm enchanted by you. I want to attest to their words because your encouragement spurs me into continuous actions which yield positive results. Thanks a million.
38. Thanks for motivating me in a way I never expected. I value you.
39. Thanks for the encouragement. It helped. I hope to connect with you better. Thank you.
40. Thanks for helping my child to come out of depression. Thank you for your encouragement and motivation.
Appreciation Message for Financial Support
An appreciation message for financial support will go a long way to show our gratitude. Below are invaluable messages you can write to express your happiness:
41. Thanks for coming to my rescue. Maybe, I wouldn't be living if you weren't there.
42. I can't express my gratitude for your financial support. I'm very grateful that you showed up to help me, despite having so many issues to attend to. May my Lord continue to bless you.
43. You are the light of my eye; the one whom I'll forever be indebted to.
44. You promised to offer a helping hand, and you fulfilled it. Thanks for not breaking my heart. Thanks for being a man of your words. Blessings from here.
45. I'm short for words. I can't think of a way to thank you better. Thanks for the financial support. I do appreciate it.
46. I thought that was the end when life's ugly face stared at me. Thanks for supplying me with all I needed and especially for the financial support. May you continue to flourish.
47. I don't know how to express my feelings for your generosity. Maybe, screaming to the world of your kindness would do. No matter the stories, I will never be able to pay you back. I'm very grateful.
48. I am awestruck by your constant generosity towards my family. I don't know how to say thank you meaningfully to you. I hope that this portrays the love I have for you and your family. May the good Lord continue to bless you.
49. You ignored the current economic recession and helped me. I'm glad that you value this relationship more than anything. Thank you!
50. I respect your sensitive spirit that constantly hears the whispers of needs in my heart. Thanks for understanding my pains and offering help.
51. I'm surprised at your kind gestures. I'm honored. Thanks for the financial support.
52. To the one who always assists me financially. I hope that you read this message and grin. You're worth more than gold to me. Don't ever feel that you are insignificant. You are one of the reasons why I live today. Thank you so much.
53. Thanks for helping me through these hard times. People like you are rare. I'm glad you came to my rescue. May you forever be blessed.
54. Thanks for flooding my world with tears of joy. Thanks for putting a smile on my wrinkled face. I am so grateful.
55. The world is yet to know about what it encamps. Soon, you will be celebrated and respected by all. Thanks for your genuine generosity.
56. Your financial assistance has gone a long way in making me a global citizen. Thanks for all you do.
57. Thanks for not looking down upon us, and helping us through thick and thin. We are so grateful.
58. Thank you. You are my angel. You are mine forever.
59. The beauty of humanity lies in sharing. I'm so glad you shine brightly above others. Thanks for the financial assistance.
60. I am so happy for whom I am, today; but I'm most happy knowing that the one who helped me is still alive, healthy, and safe. I'll forever be grateful to you.
Heartfelt Thank You Messages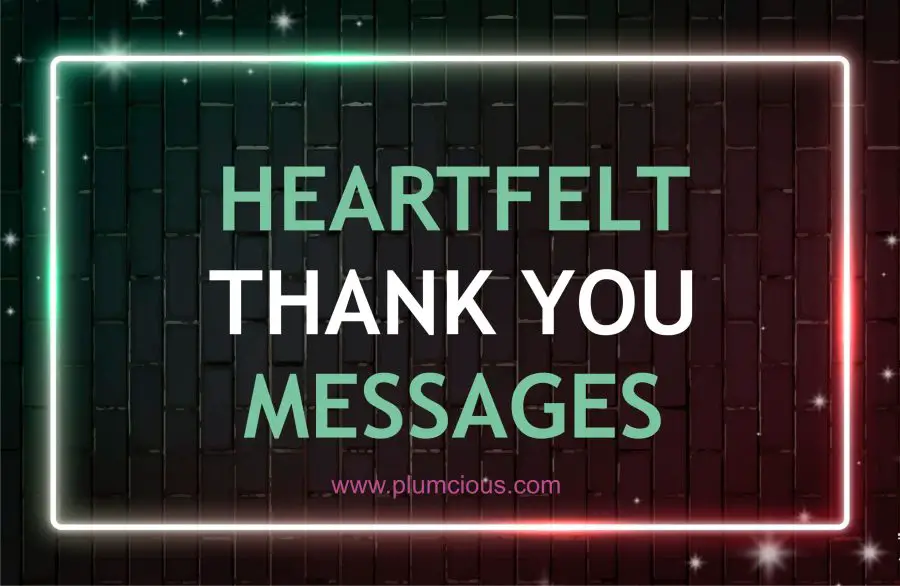 Here are some heartfelt thank you messages you can write to loved ones:
61. Thank you for honoring my call. Thanks for the ride. You saved my penny, so I have extra.
62. To the man who works tirelessly behind the scenes to make me who I am: I say a big thank you to you for being a source of motivation. For each of your actions that I adapt to my lifestyle, I get commended at home and work. Thank you, man.
63. You are just so special to me. Thanks for staying with me through thick and thin. I value you.
64. Thanks for having me in your life. I promise never to let you down.
65. If I should start to write all that you've done for me, I'll lose count. Thanks a bunch for all that you've done in my life.
66. You are the reason behind my ceaseless joy. I am happy to be a part of you. Thanks for assuring me that I'll forever be yours.
67. Thank you for not being just a partner but also a friend. Thank you for not leaving me to carry out all the responsibilities. You are truly my soul mate.
68. If I am to talk to the world about marriage, I'd tell them to marry a spouse who is hardworking, who cares for the family, who will be there when everything goes wrong and is ready to pick up again when they are left with nothing. I want you to smile for you are the one I described. I can't thank you enough, my heartthrob.
69. I don't know if I can live without you. Thanks for completing me.
70. You are special. Have you ever heard that word today? I just want to remind you of my affections towards you. You are irreplaceable.
71. Every day of my life, I feel so blessed to behold a beauty by my side. Thanks for always making me smile.
72. Cheers to forever! I find peace when I found you.
73. I'm very grateful that I chose you to be my life partner. Your modest and caring heart is second to none. Thanks for always standing by. I admire you, darling.
74. You are that person I've longed to have. Thanks for your love and simplicity.
75. The world would hear of who you are to me. You are special.
76. I say this with much sincerity that I've never met someone as loving as you are. Thanks for the love and care.
77. With love, I'm sending you this heartfelt thank you message. I'm glad you are true with the love you have for me. Thanks for calling a spade a spade, all the time. You are most respected.
78. I can't even imagine a life without you. I'm so much endeared to you. Thanks for being a great lover.
79. Thank you for the time spent with me. It really helped. Do have a great day.
80. How can I thank you for all that you've done for me? Thanks for giving me a voice when I needed one. It will forever be enshrined in my heart.
Related Post: Appreciation Quotes for A Friend Indeed
How to Say Thank You for Birthday Wishes
When people shower you with birthday wishes, they make your day great. Do you know you can also make them happy by acknowledging their wishes? Read along to know how to say thank you for birthday wishes, meaningfully.
81. I feel honored and loved to hear from you all. I didn't know that you were thinking about my birthday. Thanks for flattering me.
82. Not only do I want to thank you for the birthday wishes, but also for granting my wishes on my birthday. I'll be there for you.
83. To those who congratulated me, celebrated me and sent their gifts. I am most delighted. To everyone who prayed for me, and wished me well, you're forever in my heart. To those who had me in mind, but couldn't wish me due to circumstances, know that I'm pleased with you. I don't know how to say thank you meaningfully.
84. Sweetheart, I love you. Thanks for proving your love once again, by sending those birthday wishes. Catch some virtual hugs. You're hearted!
85. I don't know of a way to compensate you better for the birthday wishes. I do hope that you accept my sincere gratitude. I love you.
86. You are one of those few people I so much admire. Thanks for proving your affections for me, again. Thanks for reaching out to me on this special day.
87. I thought I was insignificant. Thanks for making me feel so special and honored. Thanks for remembering my day, and making it a memorable one.
88. I find it so hard to believe that you can celebrate me as much as you did. Thanks for going this far to wish me a happy birthday. I love you.
89. I feel so delighted knowing that there's still that person who would never forget my birthday. Thanks for being that person.
90. I remember you saying that you prove your love to special people on their birthday. I'm honored to be a part of them. I value you.
What to Say When Someone Gives You A Gift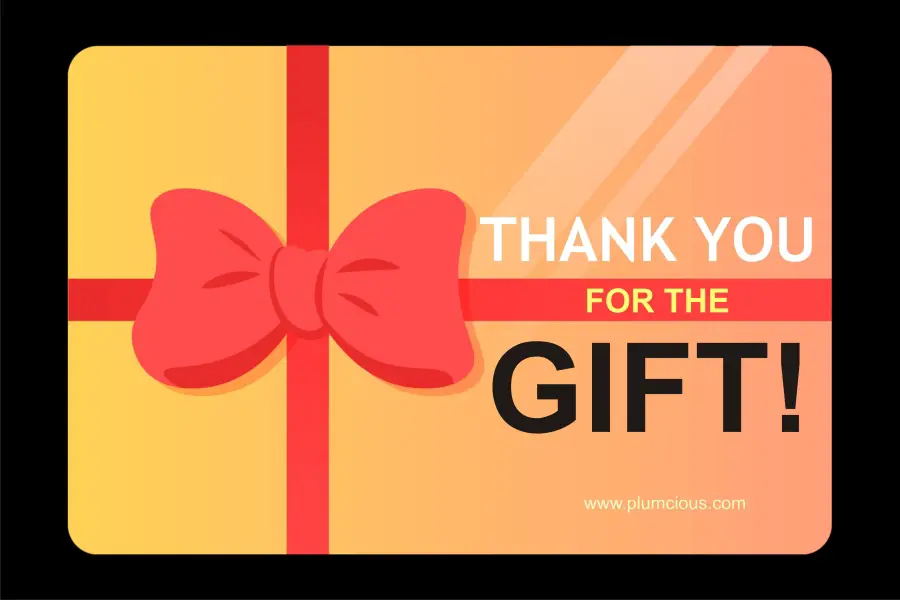 These are what to say when someone gives you a gift. I've compiled some thoughtful words and ways you can express your gratitude.
91. The best gift ever is what you offered me. I remember saying it on an evening at the bar. You acted like you were oblivious to my words but surprised me with the same gift. I love it. Thank you so much.
92. Thanks for understanding that I needed this, even without me uttering a word. You will forever be cherished by me.
93. Did you measure me while I was asleep? I don't know how you got to know my measurements because it fits me so well. The fabrics are nice and weather-friendly. Thanks a bunch.
94. Thanks for lighting my life with the gift. You don't know how happy I am.
95. At last, I get the flower from a princess like you. I'm honored. Thanks for making me feel like a baby.
96. Thanks for the present. It means a lot.
97. It touched my heart. I'm glad you do remember that it's my day. I love you.
98. Only if you know that you sent the gift at the right time, you'll be as delighted to receive this message from me. Thanks for being there for me.
99. How best can I thank the heart who granted my wishes? To be candid, I was awed by the greatness of the gift. Thanks, muffin.
100. Gifts come as surprises. You know how much I love surprises, darling. I can't be as much thankful.
Those are several ways of how to say thank you meaningfully. Whenever you wish to thank someone for what they've done, or what they are doing in your life, come to this post, again, and pick some heartfelt messages for your loved ones. Express your gratitude all the time to people you come across because it strengthens the bond of your relationship.
I wish you a productive life. Cheers!