How Can I Earn Money From My Website? : My Ezoic Monetization Experience 2023
Like a typical blogger, I started monetizing my site through AdSense. At that time, I had about 1,500 page views daily. Averagely, my earning was between 30 to 58 cents; on rare good days, I would have close to 70 cents. My desire to make a reasonable side income from blogging began to shake; but, coming to Ezoic changed the story.
So, if you're asking "how can I earn money from my website without selling anything?" Or you seek to know, "how to put ads on my website and get paid?", joining Ezoic is the way forward; that guarantees higher revenue and provides several advantages for your site's user experience, contributing to increased traffic. That's the dream of every site owner!
Hey, I know that sounds like advertising Ezoic; but you'll soon see that it's not just a marketing cliché.
Follow my Ezoic monetization experience, and you'll see what I mean.
I spoke with a colleague who later introduced me to Ezoic. Everything he told me about Ezoic sounded too good to be true. So, I decided to look around on the internet for what others have to say about Ezoic.
I took my laptop, opened my browser, and punched in several questions like the following:
Ezoic vs AdSense, Ezoic review, How much can you make with Ezoic?, Ezoic requirements, is Ezoic better than AdSense?, how much Ezoic pay for 1,000 pageviews, and several other related queries.
To my amazement, everybody, I mean every review I read on google, agreed to the fact that Ezoic is better than AdSense. I thought to myself, "They couldn't all be wrong!"
In fact, some believe Ezoic is far better than AdSense, which I later found out myself. I went on to find out which is better, Ezoic or Mediavine? I actually went further to see the comparison between Ezoic and Adthrive. At last, I had to settle with Ezoic!
Quickly, I'll be explaining why I made Ezoic my choice. I hope this will help you to see if Ezoic is worth it.
Ezoic Requirements — The All-Inclusive Opportunity
While reading all I could find online, I realized that Mediavine requires 50k traffic and Adthrive requires 100k traffic; with about 70% from tier 1 countries, such as the US, Canada, Australia, etc. You'll agree with me that, that's not so easy to attain. So, I checked Ezoic Requirements.
Boom! Ezoic accepts 10k traffic. Not just that, traffic from any part of the world! That's amazing! Not just that, I don't have to pay anything to get my site monetized, unlike Monumentric that charges up to 30% commission on total earning.
After a few months, Ezoic came up with the 'bubble-bursting' program called ACCESS NOW; which would accept you even if you have LESS THAN 10k pageviews per month. That's unbelievable! You can't find that anywhere else.
What an opportunity, for a beginner, with a small site, to partake of the opportunities the big sites are enjoying. I couldn't hold my joy!
How To Apply For Ezoic — Just a click!
So, I was finding out how to apply. I couldn't wait to start making something much more from my blog. Not only that, I needed all the advantages Ezoic promises and provides to help my site grow.
I contacted my friend who introduced me to Ezoic, and the same day, he introduced me to one of the onboarding specialists whose name is Ben Goettling.
His reception was warm and welcoming. He helped me through it all. I almost did nothing other than that I had to change my nameservers to point to Ezoic.
In less than 48 hours, my site was already serving ads from Ezoic. All the good reviews I had read about Ezoic, became so real to me. I knew I was in for something bigger and better.
From my first day, my earning was 80 cents. That's 10 cents higher than what I'll get with AdSense on rare good days. So, it was not enough to conclude that Ezoic is now doing better. However, as the day goes by, my earning was increasing to about $1.22. That is already double of what I earned with AdSense!
After a short while, I got a mail from Ben, my onboarding specialist, who sent me another good news. I'll show you a part of his mail that got me giggling. This is it….
"It will take some time for Ezoic's AI to gather inputs from your readers and their various behavior profiles, calculate the best ad locations/types/sizes/density for each reader profile, and give you a deserved revenue uplift accompanied by UX improvements. "
This mean, even though I was already having double of AdSense earning with Ezoic, the best days are yet to be here. I was like "Really? This is cool!". And guess what? Truly, over time, till now, I'm still enjoying "revenue uplift accompanied by UX improvement".
At the end of 30 days, I had $46! The highest I had seen with AdSense was $22 in 30 days. The following month, I had $88. Next was $130. More so, My traffic had increased from an average of 1,500 daily to 2,500 within 3 month of joining Ezoic.
It is important to also mention that Ezoic gives you all the options and 100% control about how ads will be served on your site. You can determine where you don't want ads to show, and how many ads you want to be shown on your site with the use of ADS PLACEHOLDERS through the Ezoic Chrome extension and Ezoic plugin for WordPress users.
To clear your doubt, Ezoic also allows you to compare Ezoic earnings with other ads. "Sites can use Ezoic's Traffic % settings to split-test traffic vs. any other form of "ad stack" or ad services/products". To further guarantee higher revenue, if sites find that they are earning less with Ezoic, Ezoic will match revenue, plus 25%.
What other guarantee can be greater? There's certainly no way you won't earn higher with Ezoic.
Now, you have to start enjoying this same juice. And I won't waste time with that. Just a click to apply and enjoy the bigger and better opportunities; to grow your revenue, traffic and improve your UX. Simply click here, if you have more than 10k monthly pageviews and for those whose site is still growing, that is, having less than 10k monthly page views, you're not left out. To enjoy offers from Ezoic, click here. There you go!
Ezoic Leap — The Advantage
I was certain that LEAP was one of the reasons my site traffic had grown and still growing. Before I started using Ezoic, my pagespeed insight score was 44% for mobile. I had tried everything I could, It was not improving.
Since I had no technical idea to improve my site speed, I was already contemplating going for paid tools that claim to improve site speed.
When Ezoic LEAP was activated on my site, my pagespeed insight score for mobile jumped to 81%, while my desktop stood at 97%. I couldn't believe my eyes. The tools I needed to save up to buy, so I can improve my speed, are now not needed anymore. Ezoic LEAP gave me the advantage without paying any dime!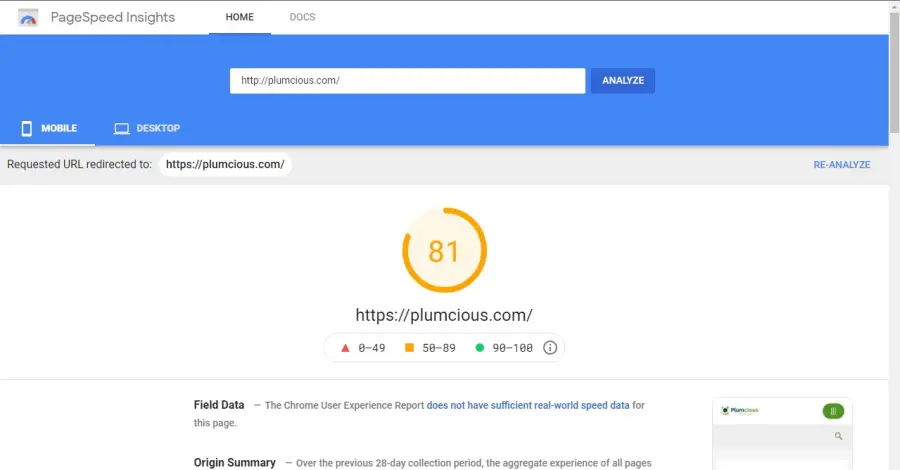 Pagespeed Insight Score (Mobile)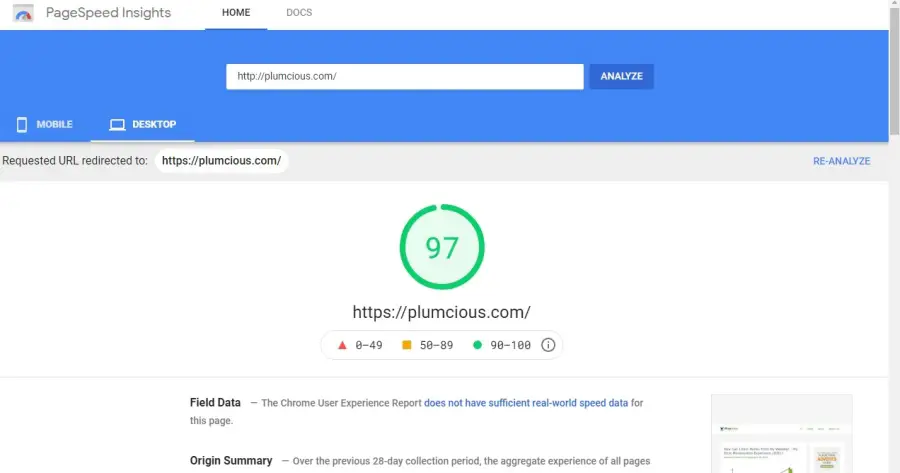 Of course, higher speed means higher ranking on SERP; which directly resulted in higher traffic with better UX. In the end, that means higher earning; and of course, a bigger smile to the bank!
Ezoic Big Data Analytics — The Game Changer
With Ezoic, is a world of data analytics. Ezoic Big Data Analytics provides you the biggest form of reports you can have about your site; from revenue to pageview, to ePMV of each content, and all that you need to make the right decision about your site.
Taking advantage of this data would help you make better decisions to grow your site traffic and especially earnings.
Big data analytics practically change the game of blogging for me and for all other bloggers that have been using it with Ezoic.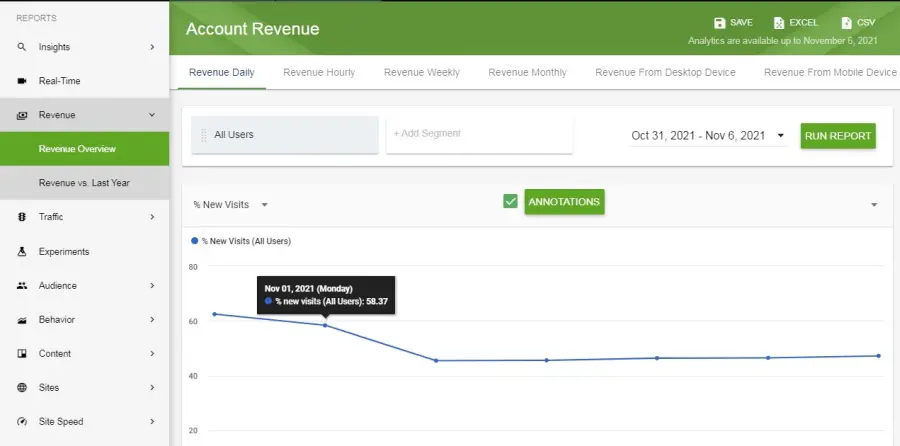 With these reports, I can identify the type of content that gives me the highest revenue and visit. Therefore, I would subsequently create more content in that line; resulting in more revenue and increased traffic.
With this, Ezoic makes me feel like a professional blogger, having constant increased traffic and earning!
Ezoic Premium —- The Revenue Booster
As I grow my site and earnings, I got invited to Ezoic premium. At first, I got skeptical, wondering if there is anything better than what I'm already earning.
I wouldn't leave anything to chance, so I headed straight to google and typed, "Ezoic premium review". I needed to know if it's worth it. And again, the testimony is, that it's profitable.
I accepted the invitation, and at the end of the month, I had an additional 35% increase in my earning. That was a revenue booster!

As you can see from my Ezoic premium chart above; I had moved from different premium levels and one thing remains constant—More Dollars!
Presently, as I write this, I am on the $110 per month premium plan, which promises a return of up to $210 at the end of the month. That's about a 100% profit!
More so, with Ezoic Premium you have access to a full-featured advanced reporting API that allows you to access all of the functionality of advanced reporting programatically. The Analytics API is a REST api that can be accessed from any programming language.
Ezoic Level—Better Paying Ads, Additional Benefits
According to Ezoic, "Levels are an expansion of Ezoic's services, technology, and features to all current and future customers. It will allow customers of every shape and size to receive the benefits and optimal value from Ezoic products and services, no matter what stage they're at in growing their business".
There are five different levels outlined (apart from the Access Now)— Level 1, 2, 3, 4, and VIP. Each of these levels offers a number of benefits and incentives to publishers. This means that, as you grow with Ezoic, you have better-paying ads and additional benefits.
The table below shows each level, requirements, and the benefits attached.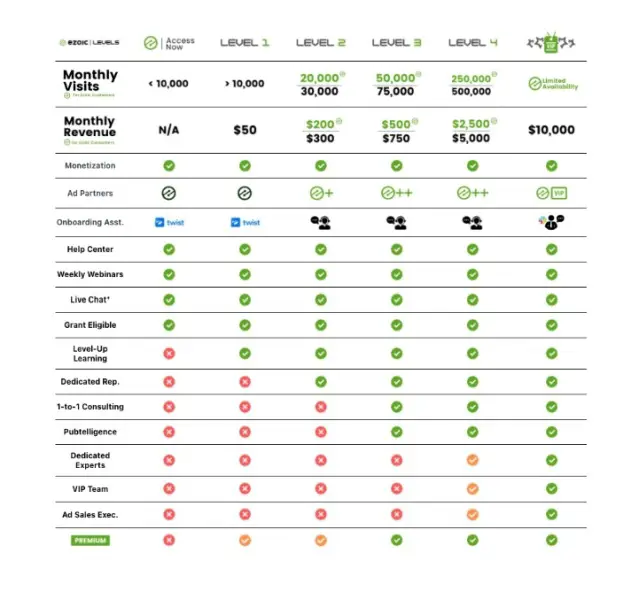 Ezoic Level-Up Learning — The Growth Opportunity Platform
As earlier mentioned, I started as a beginner. I knew only a little about blogging. Even though I am a non-techy person, Ezoic has helped me through all the way, giving me the advantage I wouldn't have gotten anywhere else.
One of those advantages is the Level-Up Learning program launched at the 2021 Ezoic customer week. I was privileged to be among the first class of Level-Up Learning (The October Batch).
It was an opportunity to learn, observe, and discuss growth strategies with experts and other successful publishers.
Learning in a private Discord server, discussing themes such as, "Creating a profitable content strategy", with recommended actions and examples alongside live and recorded sessions from publishers that have successfully grown using these strategies.
Ezoic Grant — The Icing On The Cake
As if that was not enough, Ezoic added a beautiful icing to the cake. Ezoic allows you to apply for grants as many times as possible, to grow your site, as you learn.
I see the Ezoic grant as an opportunity to earn as you learn. At a point every week, everybody in the Level-Up Learning program can apply for grant, and more than 10 applicants will be awarded grants every week.
I applied, and I won a grant! Helping to further grow my site and get positioned for more revenue.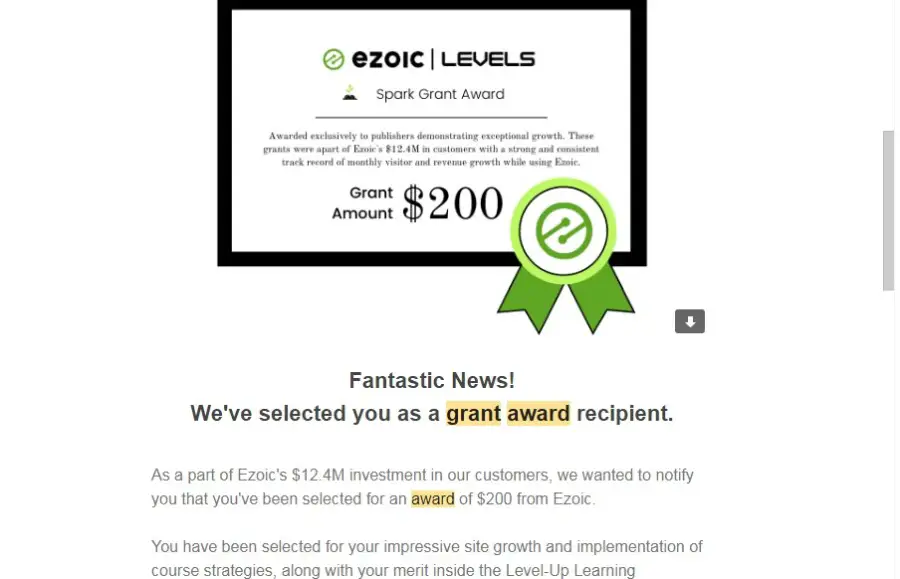 How Can I Earn Money From My Website ?
I know all of these may be sounding too good to be true, but you can see I'm not talking about what I had not experienced first-hand.
Ezoic had not only helped in growing my site, but it has also helped to improve my user experience and revenue.
More so, I have learned so much through the Level-Up Learning program and gotten financial assistant, in form of a grant, to further grow my site, for higher revenue.
What experience could be better than these?
So, if you're in my shoe, wondering "how can I earn money from my website", or finding a way to earn better than you're currently earning, there you have it. By experience, Ezoic is the way forward.
I have not only given you the requirements to monetize website with Ezoic, but I had also shown you the benefits of joining Ezoic and enjoying the best website monetization platform.
Below is a comment box you can type in your question or anything you'll want me to make clearer about how to monetize your website with Ezoic. I'll certainly respond to you ASAP.