The workplace is filled with intense pressure to meet deadlines and fulfill expectations. There is also this competition to be better than your peers and be recognized by the boss so you can get more benefits like a promotion.
In the midst of all these, praising someone for their work, talent or achievement could be the last thing on anyone's mind.
Appreciation is essential in the workplace, yet it's almost a lost art. Many employers or bosses are so focused on meeting targets they tend to overlook the effort made by their employee/subordinate. There is a need for employers to learn how to praise someone professionally for their work, whenever a commendable job has been done.
A word of praise can boost that person's morale as well as foster a better relationship and work output. In other words, beautiful compliments do not only help to show your appreciation, but they also give motivation to the receiver.
Several kinds of research have shown, and I guess you'll agree, that people who receive complimentary appraisals are more likely to perform better at work.
The reason is not far-fetched. This is because people like to feel that their work counts for something and that their investment and contribution mean so much. So, when they feel this way, they perform even better at their work.
And of course, appreciation is not related to employers alone. Employees need to adopt the habit of appreciating other colleagues with a focus on increasing collaboration and team spirit.
To give that professional compliment, here are over a hundred ways on how to praise someone professionally for their work, talent or achievements, whether it's your boss, a coworker, or a business partner.
How To Praise Someone Professionally For Their Work
How do you feel whenever someone compliments you? Good, right? A compliment can be given in a few words with a deep and impactful meaning.
As human beings, we are wired for praise. We seek to be acknowledged and appreciated. When that happens, we feel happier and better about ourselves.
A work environment that is filled with praise rather than criticism will have workers who are ready to go the extra mile for the success of the organization. If you want to know how to praise someone professionally and officially, the following list will be helpful.
1. Well done on your success. It was well deserved. Keep aiming for the moon and one day, you will have it. Good one!
2. Sometimes, producing a great job is not about being innovative but just being committed and consistent in producing an excellent job and you've shown that.
3. You are one in a million. You took extra steps and left nothing behind to complete this difficult task. This is a feather to your cap and you are an inspiration to many of us.
4. We are immensely grateful to have someone willing to do all it takes to get the job done excellently. Although this task is demanding, we were sure that you will meet up with the challenge.
5. When a person is outstanding on a job, it's only important to recognize such a great skill. You have made a powerful impression. Kudos to you!
6. With your great performance, I know that you will record more successes. Better opportunities are coming, and I am sure you will be a part of them. Keep up the good work!
7. It is said that only when you give your best shot will you get your worth, and you have shown that you are worth more than the pay you currently earn. Congratulations!
8. Many people were given this task, but they failed because they were focused on the challenges involved. You, on the other hand, were focused on solutions and you excelled. Well done!
9. Your latest contribution to this project has reinforced what we know about you- that you are an embodiment of excellence and the right one for upcoming projects.
10. One of the most valuable assets of any company is a selfless employee. Businesses dream of having selfless workers like you. Thank you for your tremendous service to this company.
11. Because of you, we won the contract. You flawlessly allayed the client's fears and made him give us a positive answer in less time. You have become someone I can depend on. Thank you.
12. That your wonderful idea made this project a success. I admire and appreciate your hard work. Thank you so much for helping us win, again.
13. Many others are out there planning to do a good job but here you are actually getting the job done. You deserve the biggest appreciation. Keep flying!
14. It is amazing to see someone work with much passion. You seem unaffected by the problems around us, and that inspires me to keep doing my best no matter what.
15. I see a person who is ready to rise above any struggle. Over time, I have watched you grow to become a person of incredible strength. You are becoming a better version every day. Keep it up!
16. You can impart skills, but the will to be consistent until the end is from within. You have been blessed with that talent. Keep using it and you will soar higher than ever.
17. I don't know how you do this but you manage to surpass my expectations with your efficiency and dedication. We have won another contract due to your impeccable marketing skills. I am pleased with you.
18. You have shown that nothing is impossible. People like you have become professionals by tackling impossible challenges and overcoming them. You are such an inspiration.
19. Since you have joined my team, we have encountered lesser problems. Your solution-oriented skill is out of this world. If we keep up with this, we will pull in more leads than any other team in no time.
20. One of the worst mistakes a boss can do is not to appreciate an employee who has made tremendous progress and multiplied the sales of this company. You have done well.
Related Post: Workplace Improvements
Words Of Appreciation For Coworkers And Colleagues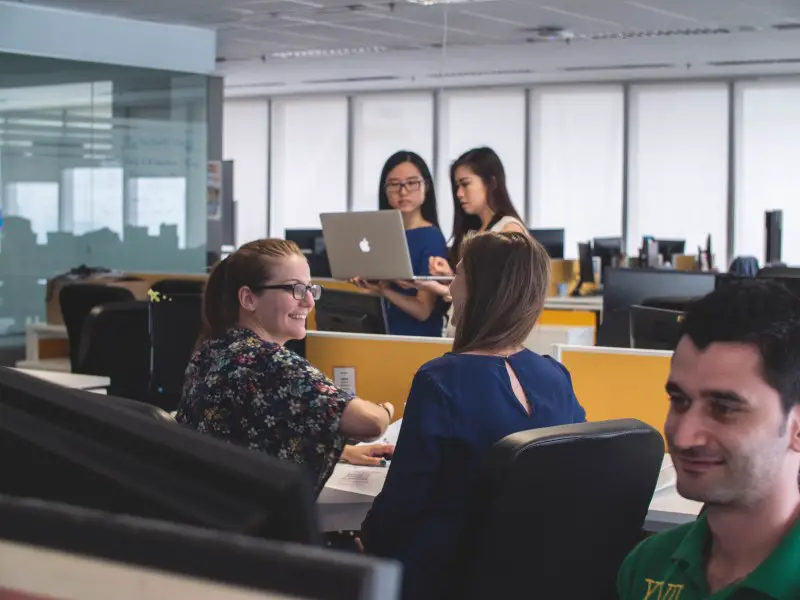 Imagine for a second being partnered to work with someone you are at odds with. Chances are you both will not deliver your best because of the tension between you.
At our workplaces, we relate with people from different backgrounds and experiences. The existence of those differences can cause friction. One of the ways to make your work more enjoyable is by constantly saying words of appreciation for your coworkers.
So, whether he/she is a junior or senior colleague, learning how to praise someone professionally and doing so intentionally can create a stress-free work environment. And if you do this regularly, you can boost the quality of your work relationships.
1. Working with you is an amazing experience, and I couldn't have asked for a better partner than someone like you who puts in so much effort to make his work faultless.
2. I am honored to be working side-by-side with you. You have challenged me to be a better worker. I wouldn't be where I am now if not for you. Thank you.
3. I am thankful for the due diligence you have displayed in producing such an excellent job. You inspire me to be a better worker and colleague.
4. Your contributions have been instrumental to the success of this project. I bless the day you were added to our team.
5. Words are not enough to express how grateful I am for the support you gave my team and me.
6. It has always been a delight to work with you. Your contribution is always a game-changer.
7. Thank you for your invaluable ideas and solutions. Your unique insights have always given the team an edge in every project. What can we do without you?
8. You are a pro at what you do. You have the Midas touch. Everything you do turns to gold.
9. Even though I have been swamped with many responsibilities lately, you filled in for me without complaint. I owe you big time.
10. It's amazing how you were able to handle pressing demands effortlessly and still deliver before the deadline. Your energy is out of this world.
11. Working with you for the past couple of months has been a rewarding experience. I am grateful for how you keep pushing me intellectually and professionally. It's a pleasure to work with you.
12. I appreciate your encouragement and support in helping me get promoted. You have shown me that I am capable of a better position. I couldn't have asked for a better colleague.
13. I am blown away by the way you handled the tension in the room and got everyone to focus on the job instead. You're amazing!
14. I am sure if every office had coworkers like you, everybody would be rushing to work each day. Thank you for your team spirit and the enthusiasm you bring to the team.
15. Starting this new project feels intimidating, but I know I will scale through because I have an incredible coworker I can face every challenge with.
Related Post: Inspiring Career Quotes
How To Say You Did A Great Job
Progress is important in any organization and one way to know that is through the progress of the workers. You know the progress of your workers by simply telling them they did a great job. By acknowledging their progress through positive feedback, you provide an incentive for them to do better at their tasks.
However, it is not enough to say you did a great job. Sometimes, that can be too casual. So, creative ways on how to praise someone professionally by learning how to say you did a great job in effective and interesting ways.
1. You managed to surpass every expectation to deliver an excellent job. The client is pleased and has given us another project which I want you to lead. Well done!
2. This is a great idea! I believe others will benefit greatly from this idea. Come and share your idea with the team/boss at the next meeting.
3. You are such an innovative person. This will improve our work greatly. You have shown a rare display of organization and leadership.
4. Thank you for showing consideration by getting this to me early so I could review it on time.
5. I have observed that you have managed to set yourself apart by doing your work so well. You have a unique touch with whatever you do. Great job!
6. It is refreshing to talk to someone with a different and fresh perspective on things. Your ideas on how to reach our target make it a wonderful experience to work with you. Keep the creativity coming!
7. It's been a while I've seen such a stunning presentation. It's meticulous and creatively put together. I hope you'll keep on showcasing your creativity in your work.
8. Thank you for every effort and sacrifice you have made to make this work outstanding. You will surely receive a good reward. Congratulations on an excellent job!
9. You have shown that a strong desire for excellence and persistence can make up for a lack of experience. Thank you for putting in your best. We are proud to have a smart worker like you.
10. Over time, I've seen that you have become more dedicated and enthusiastic about your job. If you continue to produce insightful jobs like this, the sky is your starting point.
11. Words are not enough to express how helpful your contributions are. It's refreshing to have to work with a brilliant person like you.
12. First, thank you for making our work easier and being more responsible. You complete your work neatly and gracefully. I trust you to always deliver your best.
13. This project was tough. There were many unexpected challenges, but you faced every obstacle and produced something spectacular. You have done well. I wish you continuous success.
14. Whenever I see your work, I am reminded of the kind of person you are- dedicated, efficient, and result-oriented. I am sure you will rise faster in this business. Keep going!
15. Your achievements precede you. You have shown yourself to be a person capable of getting the job done no matter how tough it is. There's a lot we can learn from you. Great job!
Related Post: Have Some Fun While You Work
How To Praise Your Boss In Words: Positive Comments For Your Boss
Having a boss who is supportive of your progress is a gift. It's important to always have positive comments for your boss who recognizes your worth and gifts.
Here is the point, normalize appreciating your boss for their guidance or support. And you don't need to rack your brain on how to praise someone professionally; rather, simply state your sentiment.
Here are some ways you can praise your boss with words that show respect and admiration.
1. Your advice and guidance have been instrumental to my success in this company. Without you, I wouldn't have known my left from right. Thank you for your encouragement and motivation.
2. You make work so interesting. I always look forward to coming to work and putting my best because I know I have a supportive boss.
3. Your constant encouragement has boosted my professional life. You have made my journey smoother and exciting. Thank you for being the best boss in the world.
4. You have been an example of genuine and responsible leadership. Thank you for being someone I look up to and a positive example to this organization.
5. You always inspire me with encouraging words during my tough times. You have shown me that I matter as a person, and not only as an employee. Thank you for being an amazing boss.
6. You inspire me to be a better person every day. I find myself seeking ways to add more value to this organization, and I feel more confident about myself.
7. Thank you for the vote of confidence in me. I feel blessed to have a boss who sees only the best in me and is willing to go the mile to see me succeed.
8. Thank you boss for helping me through and for pushing me to advance my skills. I am now one of the go-to-persons for jobs with my skillset.
9. I am grateful for your constant impartations of knowledge and advice which has helped me to become recognized as an expert. I am in a better financial state because of this.
10. I am deeply honored to have you as the boss. You are an enigma of wisdom and an embodiment of well-polished skills. You are always willing to teach, and I am favored to have to learn from you.
11. I have grown a lot since you became my head. Thank you for being instrumental in the improvement of my unique strengths. You are amazing.
12. You are honest, generous, and willing to give your time to make sure we are at our best. Thank you for being a great leader.
13. Thank you for all you have done for me and what you are still doing. The heavens favored me by making you, my boss.
14. Thank you for the many opportunities you presented to me so I can become a better and more relevant worker. I can't thank you enough.
15. Thank you, boss, for being a great person. Despite your busy schedule, you make out time to listen to my concerns and providing insights into any challenge I face.
Related Post: Appreciation Messages To Clients
How To Praise An Organization, Company / Business Partner
Your organization/business partner is crucial to the success of your business. Constant show of appreciation to your business partner will increase their chance of partnering with you again.
If this is a habit you would like to cultivate, then, check out this list of ways on how to praise someone professionally so you would be inspired on how to praise an organization/business partner.
1. Thank you for standing by me as a business partner all through these years. You have been so supportive and that empowered me to crush my goals. I don't know what I would have done without you.
2. I am amazed by the fact that you have stayed committed to me this long. Your aptness in decision-making has seen through some tough times. I am blessed to be building this business with you.
3. You have made working in this organization a pleasure. You are proactive in spotting problems and solving them before they occur. Thank you for being an asset.
4. Thank you for your invaluable support of this organization. You go the extra mile to make sure we stay afloat. You have floored me with your generosity. Thank you, guys.
5. Thank you for your expert advice which has resulted in exponential growth for our business. I don't know a more brilliant partner than you.
6. Thank you for making time to be present and check on the progress of the business. We have gained international recognition. We couldn't have done this without your input.
7. I am overwhelmed by the trust you have placed in this organization. I want you to know that I appreciate your confidence in me and I will not take it for granted.
8. I commend you for your cooperation during the campaign. Despite the tasking period, you kept on encouraging me. I am blessed to have a business partner like you.
9. You are such a cool person to work with. Your level of patience and understanding amazes me. Thank you for being the best business partner I could ever wish for.
10. Partnership with you has been one of the best decisions I've ever made. You taught me resilience and persistence. This business is fast-growing and I am a better owner. All thanks to you.
11. Thank you for your faith in this business. Your immeasurable support of this vision has birthed a business that is fast becoming a global competition. It wouldn't have been without your partnership.
12. I am grateful to you for the smooth project we worked on together. Anytime we work for a team-up, we produce phenomenal results. If you need any assistance in business again, feel free to reach out to me.
13. Thank you for taking time out to attend this meeting on such short notice. I am grateful to you and your company for the responsibilities you have trusted us with.
14. Work is sweeter when the parties involved are on the same page focused on accomplishing the same goal. You have been a wonderful business partner. Thank you.
15. My experience working with you has been a breeze, and I won't hesitate to jump on another opportunity to work on the same project as you. Thank you for maintaining this business relationship.
Related Post: Relationship In The Workplace
How To Say Well Done Keep Up The Good Work
Another way of showering professional compliments is by acknowledging the work someone has done. By doing so, you are showing appreciation for the time and efforts invested. It still boils down to knowing how to praise someone professionally.
There are many ways of saying well done. Take a look at the list below which will expose you to other thoughtful styles on how to say well done, keep up the good work.
1. Congratulations on doing a successful job. With your effort, you positively represented this company. I am honored to have you on my team.
2. Thank you for your generosity and help in making sure this project scaled through. It means a lot to me and this company.
3. I've observed how much you have grown. You keep on improving. Even our clients comment on your growth. Keep it up!
4. You have accomplished so much in a short time. Your results are outstanding. You are an invaluable addition to this team.
5. Your work ethic is inspiring. You keep flaming the vision of this team. You are such a bonus to us. I appreciate your consistent effort in making this team a success.
6. When this project began, I was skeptical at first. But the meticulous way you handled the project and the excellence of your delivery has increased my confidence in you.
7. This is way more than I was looking for. You always bring your A-game and I love it. I am lucky you are a part of this company.
8. I appreciate your creativity and forward-thinking skills. You always bring something new and positive to the table. Having you on the team was a wise decision.
9. I know that giving a presentation was difficult for you because you are not comfortable with public speaking. Nevertheless, you managed to display so much confidence. You have inspired me to do something outside my comfort zone.
10. It is said that opportunity awaits those who are PREPARED, and success awaits those who DO. Congratulations on being prepared and doing what was expected of you. Well done!
11. Thank you for taking charge of this and producing results quickly. I admit I thought this would be pushed over till next week, but you have saved us extra time and money.
12. Wow! This is perfectly done! Thank you for your critical analysis of this work. You are a lifesaver. I was getting stressed over this, but you pulled through. Thank you.
13. You outperformed yourself on this one. In such a short time, you have helped this company accomplish one of its core goals. I'm impressed.
14. Thank you for your dedication. This project was enlisted as one of the best. I wouldn't have been successful if you were not my partner. I am blessed to have wonderful talents like you.
15. I wish you could open my heart and see how grateful I am to you. You have done more than is required of you at this level. This is top-tier work, yet to pull it off. You deserve a vacation.
Related Post: Coping With Work Stress
How To Praise Someone For Their Work And Achievement
A job well done deserves a sweet and genuine compliment. It is therefore important to develop the skill of how to praise someone professionally.
Take a look at this list to get ideas on how to praise someone for their work
1. You have raised the bar in this office. This only shows you as a leader and role model. You have given everyone something to get them inspired.
2. It is rare to see someone who is so dedicated and hard-working while maintaining fiery energy at all times. You inspire me with your unrelenting drive for your work.
3. How you did this job showed you are truly knowledgeable and experienced. I would love to have you on the forthcoming project.
4. The quality of your work is yet to be surpassed in this organization. You always provide new insights that solve new problems. It is an honor to work with an expert like you.
5. You are one of the most innovative people I know. Your skills have helped us surpass our targets much faster, and our clients have a higher regard for us.
6. Your professional input has increased the quality of our output and product. You are an invaluable person.
7. Doing a job excellently sets a benchmark for other jobs. This will help you do a more amazing job when given the chance. Thank you for putting in your best.
8. Having someone like you to think ahead and produce innovative work is worthy of applause. You will reap the rewards of your great work. Keep it up!
9. Watching you work is exciting. We take great pleasure in watching your enthusiasm for your job because it inspires us to get better ourselves.
10. It is unsurprising to see that you have recorded another success. Still, we celebrate with you on this milestone to show you we appreciate your dedication in delivering excellence consistently.
Related Post: Things To Consider When Hiring
How To Praise Someone In Writing Or E-Mail
Sometimes, you may not have the opportunity to praise someone face to face, and the other option you have maybe via writing or sending an email. You just need to apply the same rule on how to praise someone professionally, as with SMS or card.
Here are some ideas on how to praise someone in writing or email, for you. Simply insert the name of the recipient where we've included names; and include an appropriate closing remark which is peculiar to the individual.
1. Dear Susan,
I want to commend your efforts on the presentation. The board members took note of your detail and the extra suggestions you made for improvements. We could see you have invested so much time and effort to do something phenomenal. It is a pleasure to work with a talented person like yourself.
Keep up the great job!
2. Dear Mike,
This message is to commend you on your role in the success of your team. You have been an example of commitment and inspiration to your teammate. Keep being you.
3. Dear George,
Thank you for making sure that the project was delivered ahead of schedule. Not only did you meet the deadline but the budget was on schedule. I am pleased to have you on my team.
4. Dear Jane,
Thank you for being my extra pair of eyes on that proposal. You saved me from delivering an error-filled work today.
The boss commended the proposal. I appreciate your contribution.
5. Dear Paul,
Thank you for coordinating the team on time for the impromptu meeting. We were able to brainstorm better ideas for the event and finally create a plan. This wouldn't have been possible without you.
With about 110 ways on how to praise someone professionally for their work, sending your professional compliment to workers, colleagues and team members have been made easier. Simply copy, paste, and make a few adjustments to suit you.