It is my custom to greet my audience. Therefore, firstly, I need to say good morning happy Tuesday to you; as I assume that you're seeing this on a Tuesday.
The beginning of the week is often filled with motivation to start all over again, but disappointments may soon water down those motivations to get going for the week ahead. It is therefore thoughtful of you to inspire family and friends with some Tuesday morning inspirational quotes.
Get inspired and send motivation to loved ones with these inspiring good morning happy Tuesday quotes and blessings.
Inspirational Tuesday Quotes
While you send your loved ones good morning messages, a blend of inspiration will help them to scale through the challenges that may come with the day.
So here are some of the nicest inspirational Tuesday quotes you can send across to those who matter to you.
1. Hey dude. Yesterday is gone, today is here. If success must happen today, it is important you leave the past as past and face the future with renewed energy. Good morning.
2. We are positioned for success when the mind is filled with positive thoughts. Today, do away with negativity and prepare yourself to take all the best today has to offer. Good morning. It's a beautiful Tuesday.
3. Good morning, friend. I guess you woke up ready to take the best the day has for you? Do not allow any form of impossibility to limit your achievement. Have a fulfilling day ahead. Happy Tuesday.
4. Good morning, dear. Yes, the morning is good because a new beginning has been presented to make all the difference that could not be made yesterday. Do it again today more intelligently.
5. Success does not just happen, it's built daily by patience and consistency in the practices that guarantee success. Keep being consistent and nothing will be impossible.
6. Wake up feeling confident and exceptional about yourself. You're highly important to me and a whole lot of others. Somebody out there is waiting for your contribution towards humanity. Good morning happy Tuesday.
7. Good morning, Love. Be motivated because it's a beautiful Tuesday. The world is waiting for you. Step out majestically and be all that you can be.
8. Happy Tuesday, Dude. Smile and be assured that life will smile on you no matter how much you have to do. Be filled with courage and make all the difference.
9. Wake up, freshen up, stand before the mirror and see how wonderful you are. You are beautifully and wonderfully made. Good morning. Happy Tuesday.
10. It's a good Tuesday morning. Being happy with yourself no matter your shortcoming gives you access to personal health and joy. No matter what you do, be happy with yourself.
11. Never allow regret to infiltrate your mind and drain your energy. There may be reasons to regret the mistakes of yesterday but never allow that to stop you from being your best today.
12. It's the beginning of new dawn this morning. Life may never be exactly the way we wanted it but we can always determine to live it the best way we can. Live the best way today!
13. Good morning, sweetie. Today, do your best and learn to leave the rest. This is how to get the best out of your day without feeling exhausted. Do have a wonderful day ahead. Happy Tuesday.
14. Good morning. As the day dawns, don't forget to always be happy and not be worry. Enjoy a beautiful day.
15. Good morning and happy Tuesday, to you my dearest. Choose to be happy no matter what comes your way. Cheers to a joyful Tuesday.
16. It's a bright morning. It's good to remind ourselves that perfection is an illusion. Simply endeavor to make the best of every situation, and you'll be a happy person. Happy Tuesday, Champ!
17. Good morning. As you get up today, set the compass aright by positive expectation and renewed energy for good works. Your expectations are bound to be fruited. Happy Tuesday.
18. Let go of what was, face what is now, and keep believing what can be. No condition is permanent. It's just a matter of time. Good morning. Have a great day.
19. Good morning. Life becomes meaningful and encouraging when you know that you'll never remain the same again. Hope for the best, you can have a big win today.
20. Happy Tuesday, friend. One Advice: SMILE. Smiling activates positive energy in you and makes you enjoy the best of the day. See you later.
Related Post: Good Morning Messages
Romantic Tuesday Morning Messages for Him or Her
When you need to send a good morning happy Tuesday message to your lover, it's important you make it both romantic and inspirational.
This is important so your boo or babe can go through the day energized and thinking about you. You'll agree with me that that's double motivation for him or her.
1. Good morning to my world's best woman. It's always a pleasure to have the opportunity to reach out to you and shower on you the dew of the morning. The best of the day is yours. Rejoice.
2. If I were to choose between you and the entire universe, I would choose you swiftly because with you by my side, I'll conquer the whole universe. Good morning, happy Tuesday.
3. My love for you cannot be compared to anything in this world because nothing in this world can serve the purpose you play in my life. I cannot trade you for anything. Good morning. Have a beautiful Tuesday as you are, my wonderful Queen.
4. It's a new day and a new experience for you. The joy of this day is in the fact that we'll spend the day together. Stay with me, I Love You, darling.
5. Good morning, darling. You're not just a friend, you're a companion and a purpose partner. I cherish you more than gold. I love you, darling.
6. Good morning, princess, your love and care have spoiled me and I cannot wake up without you anymore. Let's wake together! Good morning, I love you.
7. It's a bright Tuesday morning. However, the day cannot start until you turn on the ignition key. Start it while I drive through. You're the real deal baby.
8. I consider myself favored to be able to call you my love. You're worth the space in my heart, dearie. Good morning and happy Tuesday; it's my pleasure that you have a successful day!
9. Good morning, dear. I can't wait to have you under my roof. I prefer hearing your phone beeps while you receive this message beside me. Make sure you have a great day.
10. Every time I think of you, I wish I could sublime from where I am to where you are. Your love is highly magnetic. Good morning, happy Tuesday to my bestie.
11. Good morning, Love. Thank you for yesterday. Although, I feel I cannot get enough of you. You're complete and more than enough but I just cannot get satisfied yet. My love for you is inexplicable. Good morning, honey.
12. The thought of you is good enough for me as a motivation to get going for the day. I hope this text will get you stirred to be the best you can be today. Good morning happy Tuesday.
13. Good morning, Gorgeous. I hope you wake up strong and I hope your morning is as beautiful as your face. Stay gorgeous for me and do have a gorgeous Tuesday.
14. Baby, guess what! I just devised a means to say I love you. And that's by sending cute texts early in the morning to you. I hope this makes you smile. Cheers to a great Tuesday.
15. This Tuesday morning brightness has activated the memory of you in my heart. Truly, your smile is better than the morning dew.
16. Sometimes, the hope of holding on seems to fade but to have you by my side has always ignited the hope again and again. I'm blessed to have, good morning, bestie. Happy Tuesday.
17. This is to wish you a beautiful Tuesday morning. Your presence has activated an amazing capacity in me that I never knew was there. You're a blessing to my life. I love you.
18. Dear friend, good morning to you. I guess you're doing very well. I care about you, and I will always do. Enjoy your Tuesday.
19. I truly care about you every day and especially today. You've been worth keeping company with, darling. I love you.
20. I celebrate you because you have been there for me to play the role of a friend who is closer than a brother. Good morning, have a good day ahead.
21. Dreaming of a great future with you is pleasant to my soul. It's what I have always loved to do. Thank you for dreaming with me. Good morning happy Tuesday!
22. Sometimes, the future may look bleak and uncertain. But each time I see that you're beside me accompanying me to the future, my hope is revived. Good morning, dear friend.
23. A warm good morning to my precious friend. How was your night? I hope you had it nice and restful. Have a productive Tuesday!
24. Get up and make all the difference my friend. The day is set for your favor and goodness. March out as you win this glorious Tuesday.
25. It's time to wake up and let the world know that you're alive. The good treasures that are in you are what your world needs to be livable. Good morning, friend.
Related Post: New Week Motivations
Good Morning Happy Tuesday Quotes
It's another beautiful Tuesday morning. I guess you need to send your loved ones some beautiful morning messages. That's nice and thoughtful of you. Mind you, sometimes, you don't have to go too far. A simple "Good morning, happy Tuesday, friend" can mean a lot.
I'm sure your intended receiver will love any of these good morning happy Tuesday quotes.
1. Here is to a beautiful and blessed Tuesday. Enjoy every moment of your life because apparently, we only get to live once.
2. Good morning. It's another brand-new day, another perfect reason to be thankful to your lucky stars for being alive. Have a glorious day.
3. Every new day like this one makes me realize how lucky I am to have you in my world. I hope your day is as gorgeously lovely as you are to my eyes.
4. Dearest, I hope you never forget how wonderful you are and how beautiful you make this world. Have a day that is as beautiful as the rising sun.
5. May your day be as wonderful as your presence is to all who love you. Stay blessed for me and succeed today like never before.
6. Wishing you a lovely day. Thank you for being one of the most important stars in my sky. May you never drop off.
7. I hope you enjoy every millisecond of this fabulous day in peace progress and great breakthroughs, maximize the day.
8. If you fail, look beyond the failure and be quick to stand up and press on. Do not stay down and regret all day. Your life does not have to end because of a failed situation.
9. Every time you feel doubt, your calculative mind might be saying NO because it wants to play it safe. Listen to your heart and keep at it if it is a worthy course.
10. Good morning, friend. Happy Tuesday. I do hope you remember that expectation creates the atmosphere for your experiences in life. Expect to win daily. Not expecting to win is not how to win obviously. Expectations engender manifestations.
11. Nurture the drive to win. It will get you through the seasons of life. People eventually become winners because of the drive that never goes away. Good morning. Have a sweet day ahead.
12. Winners persist until they make progress. Successful people do not give up. Persistence breaks every resistance on the path to victory.
Good Morning Tuesday Blessings
We do hope to make this good morning happy Tuesday collection an all-encompassing one for you. So we've included some good morning blessings for you.
We know you might want to send some positive thoughts and desires to loved ones to bless their day? We got you covered with these good morning Tuesday blessings and greetings.
1. May the blessings of God never miss your doorstep. Wishing you joy and happiness this morning. Have a nice day.
2. May this Tuesday bring you nothing but the truest and purest form of happiness. May you enjoy every benefit today has to bring. Good morning.
3. Good morning, Champ! Truly you are blessed beyond measure. Step out today and be a blessing to anyone you meet. Wish you a great day.
4. Thinking about you this morning. May you have the best of days in the goodness of the Highest. God bless you. Happy Tuesday.
5. God bless you for your presence in my life. May you be replenished with everything you have lost in putting smiles on my face. I wish you the best in the plans you have for today.
6. Good morning, lovely friend. Another Tuesday just arrived, and I want you to open your arms wide and embrace the blessings and joy that accompany it.
7. This morning calls for much celebration because we have been blessed with the priceless gift of life. May our lives continue to be showered with God's amazing blessings.
8. Good morning. My wishes for you are that everything that is in touch with you this day is blessed. The fruit of your body is blessed. The works of your hand are blessed. You are highly favored by the Lord. Amen.
9. This is the actual day you have been waiting for because I'm sure it brings you closer to your dreams and goals than you were, yesterday. Blessings of the Lord are upon you and it will never depart. Amen.
10. As you wake up with happiness in your heart, may your happiness not know limitations. The situations of life will not puncture your joy in the land of the Lord. Amen.
11. I declare upon your Life that your endeavors receive the fullness of God's unstoppable blessings. Every moment of the day is blessed. Good morning, happy Tuesday.
12. Every day is not for you, but I can convincingly say that this Tuesday is for you. Be excited about it, because this day will yield its maximum benefit for you. Amen.
13. Sing aloud and rejoice because the Lord has made this day beautiful for you before it begins at all. His name is worthy to be praised among all gods. Sing praises today and you'll be massively blessed. Beautiful Tuesday to you, friend.
14. Good morning and Happy Tuesday. I hope you'll receive grace to stay focused and mind your business so that you do not get distracted by the doings and un-doings of others around you.
15. Failure shall be far away from you and success will run swiftly to cleave to you; both today and days to come. Amen. I love you, great friend!
16. Good day, sir. As you match out today to go about your businesses, you'll never miss your target today. You'll have all your dreams and goals come to pass. Amen.
17. Good morning. Today, may the Lord help you to keep your hope alive even when it seems all hope is gone. You'll find the strength to match on in the face of adversity. Amen
18. Today, may the blessing and goodness accompany you all through the day and make the rest of the day gloriously blessed. Enjoy a blessed Tuesday.
19. My wish for you this day is that the Lord lifts you beyond your expectations and give you a lift that is beyond your efforts. Your ways are prosperous in the name of the Lord. Amen.
20. Good morning, dear. From this day onward you shall not lack anything good and profitable for you. Blessings and mercies shall be all yours.
Good Morning Tuesday Wishes
Let your friends, family, and colleagues know that you want the best for them this beautiful morning.
Any of these good morning Tuesday wishes will help to communicate your desires for loved ones succinctly and perfectly.
1. This is a blessed day for you and yours, do no doubt it. Today is impregnated with new possibilities and blessings. I wish you a great Tuesday ahead!
2. Good morning. I'm so excited because you are seeing today in sound health peace and joy. The joy of the Lord will never cease in your life. Blessed are your experiences today!
3. Blessed are you this day, and blessed are the work of your hands and the fruit of your body. Blessings are all yours! Have a cool Tuesday!
4. Good morning, beloved. I wish you a very wonderful and amazing day. This Tuesday will bring greatness and fortune your way. Have a joyful day!
5. Begin your activities today with joy and utmost gladness. Good news will break out in your life today and beyond. It's Tuesday. Enjoy it!
6. May your path be filled with amazing surprises. Surprise packages will not be found wanting in your life. This day is bringing a multitude of benefits to you. Happy Tuesday.
7. Good morning. As you set out in your daily engagement, may favor be the doormats you walk through. You'll not miss out on anything profitable
8. The Lord will teach you how to profit and make wealth. May you be empowered by the fingers of God. Have a great Tuesday ahead.
9. You'll be very profitable today than you've ever been. Your productivity will increase and your rewards will match up. Have a nice Tuesday!
10. May you be Smarter than your peers today. May your eyes be opened to Identify opportunities around you. Have a happy Tuesday!
11. Today, may your heart desires are granted. May peace fill your heart and prosperity fill your life. Happy Tuesday!
12. Cheers! It's a beautiful Tuesday morning. Enjoy the best of it.
13. Good morning. Today, may you not be found deficient in skills that are needed for success. Everything you'll need for your uprising shall be given to you by God.
14. My wish is that may your body be re-energized for the tasks and requirements of today. No fatigue will take over your body. Have a fruitful Tuesday.
15. Today, your head shall not run dry of the anointing that makes for ease! Enjoy the best. Happy Tuesday, dude.
16. It's a great day. Whatever is required for productivity and prosperity shall be given to you. You'll not experience deprivation.
17. May you not be wearied of well-doing. Every seed sown in the past shall begin to yield fruits to you in multiple folds. Have a great Tuesday!
18. May the goodness, riches, kindness, and mercy of the Lord abide with you and all that you do. Your works shall not be short of divine blessings.
19. The works of your hands shall receive the breath of heaven. It will come alive and begin to be profitable.
20. This morning, may fulfillment, peace, riches, honor, and everything success represents flow into your life. Happy Tuesday blessings to you.
Tuesday Morning Inspirational Quotes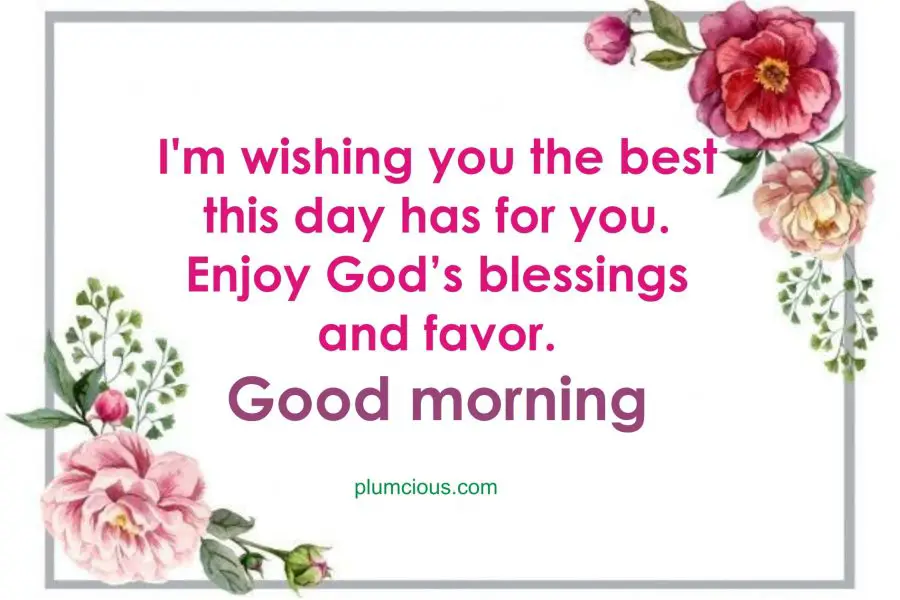 1. Challenges are like objective questions. They always have their answers right around them. Good Morning. Happy Tuesday.
2. Good morning. Love and kindness are never wasted. They always make a difference. They bless the one who receives them, and they leave the giver more blessed.
3. If you are grateful every morning as you wake up, happiness would well up within you. Be thankful all day.
4. Good day. Sometimes the greatest test in life is being able to bless someone else while going through personal challenges. You can always be a blessing, choose to be one, today.
5. The most expensive thing in the world is trust. It can take you years to earn and only a matter of seconds to lose. Be found trustworthy in all that you do. God bless you greatly.
6. Success favors the bold. Weakness is a disadvantage. Be strong and courageous to face the day with expectations. You'll return home with the benefits uncountable. Happy Tuesday.
7. Happy Tuesday to you. I hope you know that you're so precious and important in my sight. This is why I'm seizing the moment to fuel your day with wonderful greetings. Have a great day!
8. May you match forward today, and enjoy speed in all that you do. Higher and higher will you rise. Amen.
9. Good morning. Your advantage in the day is the ability to make the right decisions. I pray that you'll receive a sound mind to think accurately and make accurate decisions this wonderful Tuesday.